🚨New Feature Alert! Next Level Design Customizations.🎨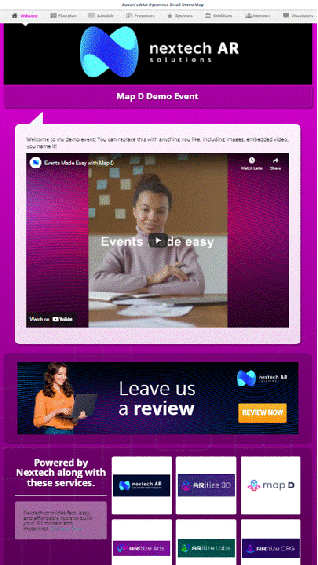 New feature - design customizations.
Today we're writing about a new feature added to your event's show set up and settings panel - design customizations! Design customizations will let Map D clients take control of their event's look and feel like never before.
So what has changed?
Clients have long been able to brand their events with custom colors and image uploads, but these new features take customization to a whole new level.
Previously, the event background was a solid color of the show manager's choosing. Now photos, logos, and custom graphics can be showcased across your event with a few simple clicks.
Apply the same branding across all pages or customize each section individually.
How do I get started?
When you are ready to start using design customizations, navigate to your settings control panel to change your event's logo, update all page backgrounds, or customize each section individually.
Still have questions or want to get started on your next event?