Digital Sponsorship Tips: Ideas to Drive Virtual Booth Traffic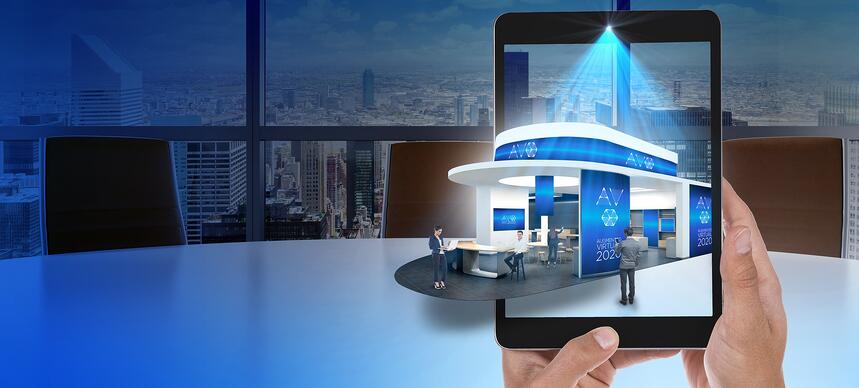 Trade shows are a big part of associations. Of course, now that everything's gone virtual or at least has SOME virtual aspect, you're probably wondering how to continue hosting successful events and connecting members and suppliers online. It's the same as with live events -- sponsorships.
Bringing in sponsors for events cuts back on attendee costs or provides a bigger budget to create even more engaging and memorable experiences for the attendees. Not even the digital format scares sponsors away as 80% of them expressed interest in sponsoring virtual events, given attendee interaction is possible. Why would it? Online events are known to attract a broader audience since they're so much more convenient to attend, translating into more eyeballs and a heftier ROI.
Cue virtual booth visits. Although visually they look exactly the same as physical booths, people don't wander like they would during an in-person trade show; they don't walk around the virtual exhibit hall and explore different booths - they choose which one to visit from a list or event floorplan. So in order to keep the sponsors happy (and profitable!), associations planning to host a virtual trade show must double down on strategies to drive traffic to virtual booths rather than wait for attendees to discover them themselves. If that's you, you're in luck: today, we're sharing five actionable tips on how to increase virtual trade show booth visits. Let's dive in!
How to drive traffic to a virtual booth
1. Let attendees know where to find it
It's easy to assume people will log in to the virtual event platform and immediately know how to use it or where to find interesting content. Wrong. It's vital that you set the expectations and communicate key information points such as the event agenda or where to find both XYZ well ahead of the big day. After all, attendees won't visit a virtual booth they don't know exists...

So aside from building anticipation via email communications with registered attendees, encourage exhibitors to include key information participants need to make the most of your virtual experience. Even better if instead of a vendor list, you share an interactive event floorplan of the virtual exhibit hall with all booths and their vendors in one place:

Participants will be able to easily navigate and identify vendors they're interested in finding more about, or effortlessly book 1-to-1 meetings with booth representatives - all while the floorplan updates in real-time.

2. Start generating traffic BEFORE the event
It seems like a no-brainer, but don't make the mistake of leaving the show promotion and drawing traffic to the virtual booth experience to the very last moment - utilize social media and email marketing to get your attendees excited weeks before the big day. But don't just promote amongst your own audience, no; leverage your sponsors' audiences too.

You could, for example, showcase mockups of various virtual booth designs or what content will be available for visitors to browse in each of them, together with speaker spotlights or "behind the scenes" of planning the show. Whenever you get a chance to do so, mention the virtual booths and what to expect of them - the more relevant people visit, the more value you'll create for your sponsors.

3. Use gamification & incentivize booth visits
Gamification is a great way to encourage attendees to complete specific actions, such as booth visits. It may sound trivial, but gamification, which is simply introducing various challenges that are then rewarded with points or discounts, is a powerful psychological trigger often deployed in marketing or the education sector to boost engagement.

The sky really is your limit here. To gamify your virtual experience, you could set daily targets for attendees to meet, such as the number of booths visited, demos viewed or scheduled networking meetings. People would then be rewarded with points, and the person(s) with the most points wins an exclusive swag bag.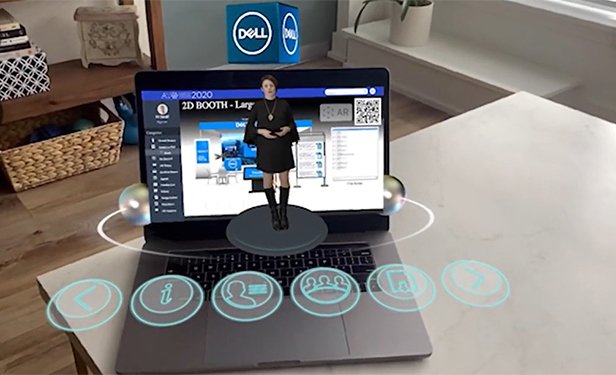 Augmented Reality is an exciting way to "wow" attendees and encourage engagement.
4. Host an educational session during the event

People like buying, but they don't like being sold to. Encourage exhibitors to host relevant and valuable educational sessions to show off their industry knowledge. After multiple pitches throughout the day, attendees will look forward to participating in an experience that isn't designed to sell them anything (directly).
Not to mention it's also a chance for your exhibitors to establish their industry expertise but also show their employees and brand culture, which also has a significant impact on sales. Additionally, if the session's content proves extremely valuable to attendees, they'll naturally want to learn more about the exhibitor's business and products.

5. Offer the show on-demand
Leaving the show live for days, if not weeks after it's ended is quickly becoming the industry standard. Attendees can easily go back to the experience for information or contacts they missed or consume more content if they didn't have enough time to do it while attending the virtual trade show live. Some sessions may simply be worth rewatching anyway.

The beauty of offering the event on-demand lies in flexibility. Some associations leave the event running to attract attendees for future events or give those who couldn't make it a chance to tune in at their convenience. Not only does it generate interest for future shows, but it is also another revenue generator for organizers.

Final thoughts
Attracting sponsors to your virtual trade show is one of the core revenue sources for your association. But signing the deal isn't where the hard work starts - it's where it begins. Now is the time for your show to deliver on its promise to the sponsors and generate a great ROI on their investment.
While virtual trade shows aren't that different from their live counterparts, you do have to be more proactive about increasing booth traffic and attendee numbers to ensure your providing value to the sponsors. It's not enough to simply design a beautiful booth and wait for people to come flooding in; it doesn't work like that in the digital format.
Although virtual trade shows help associations achieve the same outcomes as live trade shows, they require a different approach to be effective - in this instance, doubling down on promoting your booth.