Five Things Associations Can Do To Generate Revenue When Selling Sponsorship Packages In Virtual Events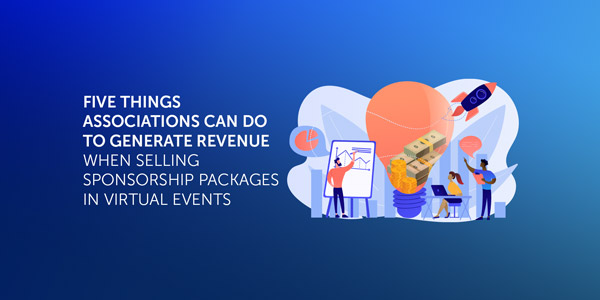 Having spoken with and worked alongside hundreds of associations, one thing is very clear. The global Covid situation has been transformative for them - like it has been for many industries. And not always in a good way.
For many associations that predominantly rely on revenue driven by events (especially when event revenue is mainly driven by sponsorship from sponsors) - their income has been slashed to next to nothing.
Almost all of them are fighting against not only where their employees can work, and how they interact and collaborate with each other due to the Covid restrictions - but also figuring out how they can generate that all important revenue from selling sponsorship packages which is arguably the staple of their event led strategy.
More and more associations are now trying to look past the effects of Covid and understand what the landscape will look like, whereas most sponsors are looking much more "in the now." Despite drastically cutting their sponsorship budgets, they still want a return on their investment, and most are open to new ways in which to generate it.
Which is where virtual events come in—but it's not quite as simple as holding just "another virtual event." There are many factors to take into account - and many subtle different nuances within those factors - from the right platform to the right location - and much much more!
With sponsors out there looking to get the most 'bang for their buck' on restricted budgets you do have to get creative in ways that you can sell packages and therefore generate revenue. However, event organizers and associations who choose the right provider - and have the ability to create, and sell, sponsorship packages on the right platform are generating revenue.
Just like the associations we work with.
Take the Colorado Association of Libraries, for instance, who recently held CALCON with us. We recently wrote about how they used Map Dynamics to raise ten times the cost of hosting their virtual conference and set new event benchmarks along the way.
So without further ado let's look at five things associations ought to do to generate revenue from sponsors when selling sponsorship packages for virtual events.
Enhanced Audience For Sponsorship Packages
We've said many times before that one of the biggest benefits of virtual events is the fact they're not "location dependent" - so you can open them to different (brand new!) audiences around the world. Having a broader range of attendees in an event who may never have attended originally - even without Covid restrictions - is very attractive to sponsors.
Especially when you factor in multiple locations for sponsors to advertise themselves during the virtual event, and not to mention the rich data that can be supplied - far more than any physical event ever could!
Community Engagement
The most important aspect of any virtual conference or trade show - community engagement. You see, it's not enough to gather a large audience to label an event successful; the key to hosting successful virtual events is creating digital experiences that keep attendees on their toes throughout the entire event and encourage active participation instead of passive content consumption.
Maintaining attendee engagement is an ongoing challenge in the virtual event industry and it certainly has dampened sponsors' willingness to invest in virtual trade shows or expos. After all, who wants to spend money on ads that'll never convert?
For this reason, look for a virtual event software that comes equipped with interactive tools to help you increase audience's participation (ergo receptiveness to in-event ads). For example, at Map Dynamics we created the Community Engagement Program empowering you to offer sponsors prime visibility and schedule display times that are based around the event's schedule and content for maximum attendee engagement. Furthermore, the program also allows us to find sponsors for the event organizers (such as yourself) ensuring an additional stream of revenue without them lifting a finger.
Pre & Post Event Marketing
One great way to attract revenue from sponsors is to offer them a package that includes coverage in your pre and post event marketing activities. Ask yourself: What do sponsors want?
At a very basic level they want exposure to people - specifically the right people - for multiple reasons from brand awareness to making sales both short and long term. Offering your sponsors a place in your marketing activities either side of your event is a great value add - whether it's in your email newsletters, social media campaigns, website or a good old fashioned direct mail campaign.
As an added bonus for you - always ask them to share across their marketing campaigns as well. The more the merrier!
Floor Plans, Auditoriums & Virtual Booths
Arguably the most solid and dependable way to attract sponsors (and therefore revenue) is to sell space in your virtual event. Consider this: the bulk of the main action of events happen here. This is almost always where the majority of "eyeballs" are from attendees. This is 100% where your sponsors need to be.
Typically where it all starts is the floorplan, your attendees want to know where they're going and where they can engage with content that interests them. And you can get super creative with floor plans. Just check out this example from the Chi Omega Christmas Market, who made their virtual floorplan look like a present with different colors representing different categories of exhibitor.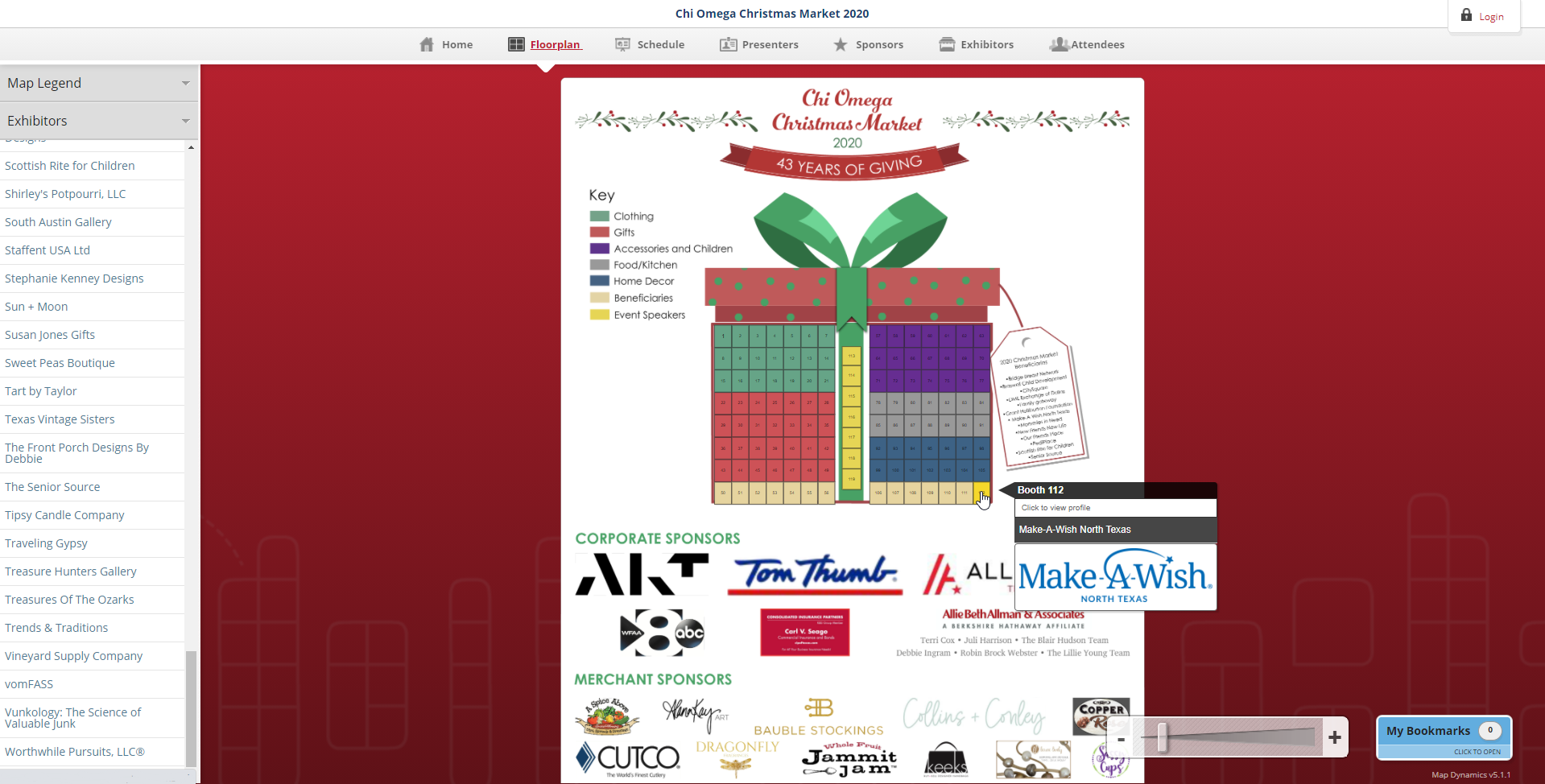 The Chi Omega Chrismas Market got creative and made their virtual floorplan to look like a present with different colors representing different categories of exhibitor.
How about some prime visibility for sponsors in an auditorium where your keynote speaker is? You can even take it a step further and showcase your sponsors pre-recorded video in session - even if there is a live-stream element. Or how about relating those sessions to your sponsors? The options are endless.
Selling sponsors space on floor plans, auditoriums and virtual booths are a goldmine - and you can (and ought to) push hard for these premium locations.
In-Event Interactivity & Gamification
One of the things we have seen in events is the high level of engagement and interactivity especially if there is a level of gamification involved. Remember when we asked above what sponsors want? To be in front of people. Especially if those people are actively taking part and engaging within the event itself.
Associations can use this to their advantage when selling sponsorship packages. Imagine being able to offer potential sponsors additional recognition with features that are reserved exclusively for them.
That could be as simple as prime profile features such as videos, photos, team profiles, testimonials, or chat as a premium to really digging into the interactivity and game play of sponsored prizes, virtual scavenger hunts, raffles or exhibitor bingo.
Final Thoughts
When hosting your virtual event there are so many options for sponsors to showcase themselves. In fact there are so many ways in which you can generate revenue by selling sponsorships in virtual events it can be overwhelming. Fear not though - we're here to help.