Virtual Events in 2021: Everything You Need to Know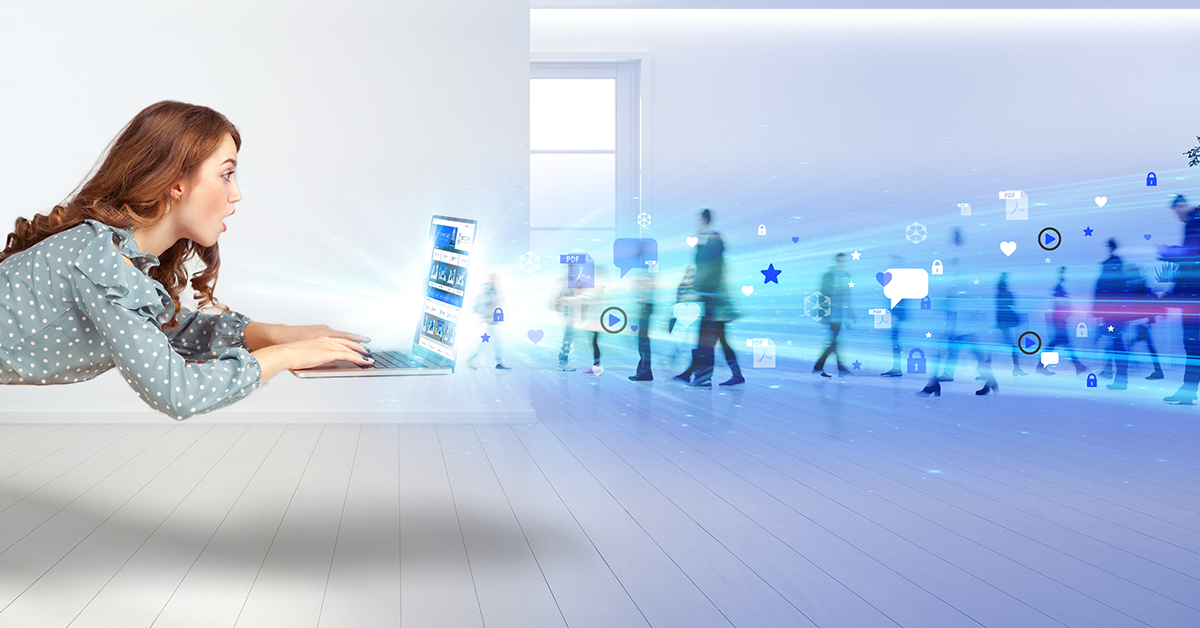 Virtual events dominated 2020. With thousands of live events being postponed due to COVID-19 related safety concerns, organizations had no other choice but to transition and host their function in the digital environment - or not host it at all.
And while nothing will ever replace the face-to-face experience, it seems as though companies are finally starting to realize the value of online events. After all, we live in a digital world, and with so many aspects of our daily lives moving online long before the global pandemic started, it was only a matter of time before digital transformation reached the event industry too.
But the world of virtual events can be confusing, especially if you have never hosted or attended one before. What exactly is a virtual event? How to host a successful online trade show or a conference? What are the pros and cons of virtual events? Don't worry - we've got all the answers below.
What Is A Virtual Event?
A virtual event is a gathering, whether business or social, that takes place online. Communities are brought together in a digital setting to consume event content, exchange ideas, network - just like they would during an in-person event. Anyone can participate in virtual events, regardless of where in the world they are or what device they're using.
The structure of online events is also very similar to live events. Many virtual event platforms feature fully branded and bespoke virtual booth or stand designs, exhibit halls, keynotes, breakout sessions, workshops or even live Q&As or in-session polls, just to name a few. Participants can communicate with each other, organization representatives and event speakers in real-time or access content on-demand even weeks after the event is over.
The event's size isn't an issue either, regardless of whether you're planning a large-scale conference or a smaller internal corporate meeting or e-learning session. And don't let 'virtual' in the title mislead you - virtual events are not virtual reality (VR) related and do not require a VR set to participate - just a smartphone or a laptop and WiFi connection.
The Most Common Types Of Virtual Events
Even though nothing will ever come close to the face-to-face experience, practically any in-person event can be transformed into an online event. Below, you'll find a list of the most common types of virtual events popular today:
Virtual Conferences and Summits
Virtual conferences and summits enable participants to attend and interact with the event content, speakers and other attendees in real-time. With the rise of powerful virtual event platforms, they tend to include aspects often associated with traditional conferences, such as keynote sessions, workshops or breakouts.
Online Trade Shows and Expos
Trade shows and expos are a great way to showcase your products and catch up with industry news, and virtual trade shows are no different. Attendees are invited to explore virtual booths and stands, wander around the exhibit hall as well as chat with the company representatives to request further information about the product or service.
Virtual Job / Career Fairs
Meeting your recruitment goals and attracting global talent has never been easier, thanks to virtual career fairs. Virtual event platforms provide candidates and organizations with the opportunity to interact with employer representatives as well as access all relevant information in real-time.
Virtual Student Open Days
Higher education institutions often organize open days and various fairs to give their potential students an idea of what to expect should they choose to attend this particular university or a college. Virtual open days work particularly well for students looking to study across the country or abroad as geographical restrictions are no longer a concern.
Why Host A Virtual Event?
Organizations host virtual events for the same reason as in-person events: raise brand awareness, generate and nurture leads, and drive revenue. While the outcome is the same, the means of delivery and the value of live and virtual events differ. Hence, it's important to discuss all the pros and cons of hosting your event in a digital environment before you start planning. Here are just a few reasons to host an online event:
Reach

. Because virtual events are hosted online, anyone in the world can join in, resulting in higher participation figures compared to in-person gatherings. Therefore, not only is your company reaching a much larger audience than ever before, sponsors and exhibitors are more likely to sponsor an event that offers a more significant return on their investment.

Cost-effectiveness

. Anyone involved in event planning and production knows that hosting a live experience is a costly affair. Think venue costs, equipment rental, catering, setup and teardown, promotion... In other words, there's a lot to include in an ever-shrinking budget that isn't required to put on a virtual event. All you need to consider is powerful

virtual event software

, promotion and staff costs.

Accessibility

. Remember the days when attending an event meant taking time off work, travelling and trying to find accommodation? Sure, it's partly what makes the face-to-face experience so special, but it can also be

exhausting

and, let's be honest, expensive. This isn't the case with virtual events at all, as the only travel online attendees will be doing is getting into their home office.

Data

. Tracking attendee activity during live events is almost impossible. Keeping track of things like how many people visited your booth, requested marketing collateral or expressed interest in purchasing your products is limited and can be inaccurate. However, most virtual event platforms come equipped with a robust analytic dashboard that automatically records user behavior during the event, supplying you with actionable insight that can be leveraged in post-event retargeting and email campaigns.
Final Thoughts
Virtual events may be our only option at the moment, but we believe they're here to stay and will be used to enhance the live experience once life returns to normal. For now, however, the benefits of hosting your event in a digital setting are overwhelming - increased attendee reach, reduced costs, flexibility and actionable user behavior data.
If you're still on the fence about whether or not online trade shows and conferences are the right alternatives for your live event, consider them as a stepping stone to when it's safe to gather in-person again.