Tips for Exhibitor & Sponsor Engagement in Virtual Events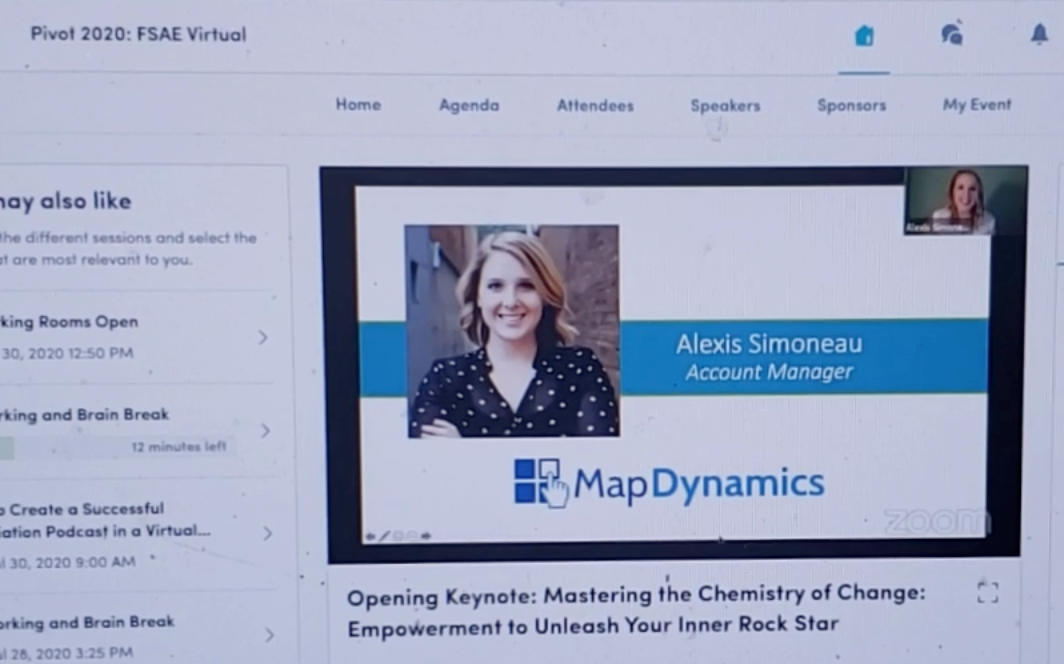 One of my favoritest parts of my role at Map Dynamics is working with my customers to achieve their goals using our software. As an association geek through and through, nothing brings me more joy than to help my customers save time and boost the value of their events to generate revenue and create memorable experiences for their event attendees.
One of the most common questions I get lately is: How do I get my attendees to engage with my exhibitors & sponsors during virtual events?
I promise I have some great tips for you, but first, I encourage you to consider the following question: What does your vendor want?
This question is not as difficult to answer as you may think. To begin, I highly suggest that you just flat out ask... But otherwise, they generally want one of the following 3 things:
Brand Awareness: logo placement, marketplace profiles, the ability to introduce a session, a video promotion, banner ads, email pushes, virtual happy hour presence, podcasts...
Leads: appointments, attendee lists, scheduled demos, RFP rewards, analytics, networking.
Content Leadership: Live or pre-recorded content as an interview or case study with a client, a single session with thought leadership, a guest blog post, a guest on a podcast, webinar co-presenter.
Source: My friend, Teri Carden of 100 Reviews & Non-Dues-A-Palooza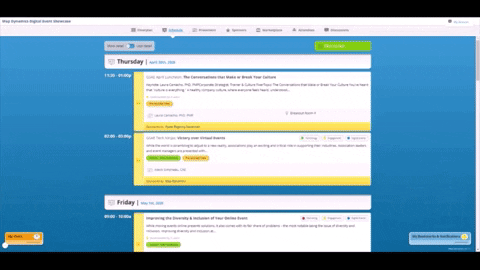 Showcase your session's sponsors with a related vendor profile.
Tools for engaging your exhibitors & sponsors in virtual events:
Note: This list was specifically compiled for our customers at Map Dynamics using Event Home Base, but if you aren't a customer yet - I hope these tips can help provide value to your vendors no matter what virtual event solution you are using!
Allow your vendor an opportunity to lead networking breaks throughout the event. Give them recognition as a related vendor in Event Home Base & allow them up to 2 minutes to speak.
Offer networking breaks with a themed discussion question or just a fun question like "tell us about your favorite vacation" and send your attendees out into breakout rooms with a vendor in each room to chat through that question. This is so simple and fun!
Have exhibitors add 1-2 "fun facts" about their company or participating team members in their profile or during their sponsored session pitch. Have them submit these to you in the form of a Q&A. Populate these in a free quiz tool with a leaderboard and show the leaderboard during breaks or beginning of sessions to drum up excitement. Announce a prize to the winners!
Work with exhibitors to set up their own personal Zoom meeting links for their company in their exhibitor profile. Encourage attendees to visit exhibitors' zoom rooms during specific times in the schedule. Have attendees take screenshots with the exhibitors and submit through a form and the person with the most exhibitor visits gets a prize. Use these photos in your post-event wrap up!
Invite exhibitors to pose a discussion starter or qualification question in their profile as a custom field (you can add "Discussion Question"). For us at Map Dynamics, for example, I'd use something like: "Tell me about your next virtual event!" and have attendees complete the Inquiries Form to include their answer to the discussion question. Work with exhibitors to (A) invite them to offer prizes to one random person who fills out the form, or (B) offer an association-sponsored cash prize to whoever fills out the most forms. (Yes, we can track that for you!)
If I were attending a virtual event - these are the types of opportunities that would make me light up! If you have ideas to add here or would like to offer any feedback to what I came up with, please reach out! Or, if you just want to talk shop and brainstorm creative ways to deliver value for your exhibitors & sponsors, I'd love to do that, too. You can send me a note at alexis@map-dynamics.com