What's New in Development From Map Dynamics in May 2020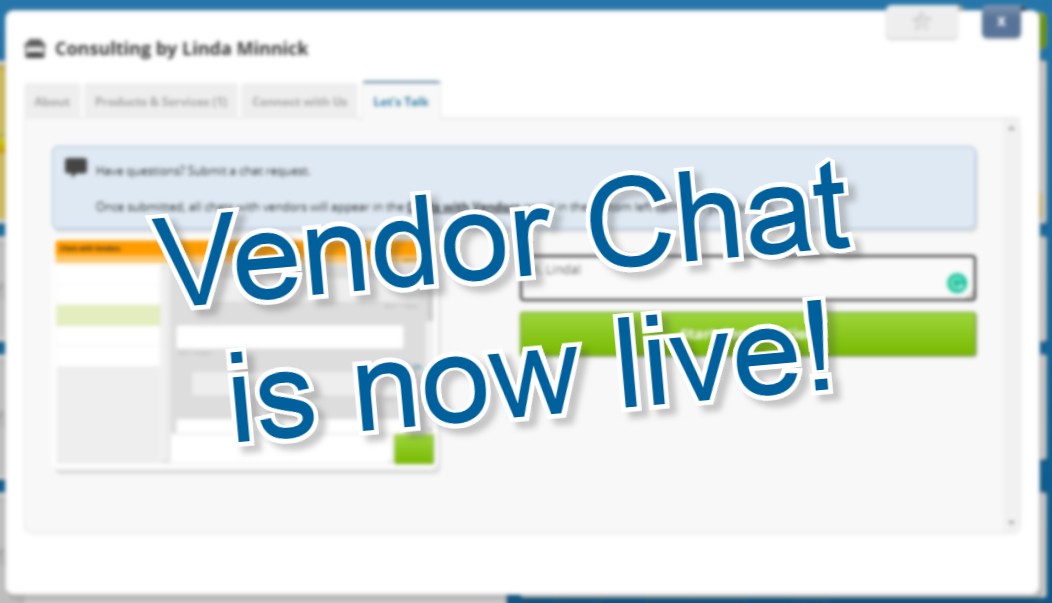 Platform Updates (Friday - 5/1)

TOTAL BOOKMARKS
• Where sessions, presenters, and vendors appear - the number of users that have bookmarked this item also appears on the Desktop view.

ATTENDEES
• An attendees section has been added to the Desktop view

GENERAL DESIGN UPDATES
• The 'star' icon has been added to the Sponsor Headers


Platform Updates (Tuesday - 5/5)

SCHEDULE - FULL VIEW
• Related vendors designated as "sponsors" appear on the full schedule view as "Sponsored By..."
• New "Filters" panel and it includes filtering by bookmarks

MARKETPLACE - FULL VIEW
• Added a new Filters Panel. Includes business categories, bookmarks, and sponsors

MARKETPLACE - PROFILE
• Sessions the vendor is part of show up in a "Related Sessions" tab
• Personnel have been moved to the "About" tab"
ATTENDEE PROFILE
• Attendee profile is built
• If there's an email attached to the attendee the system cross-references all related vendor and speaker data to see if this person is related to vendors or specific sessions. If so - those listings appear on the Attendee profile.


Platform Updates (Friday - 5/8)

NAVIGATION
• If no booths, schedule, speakers, sponsors, exhibitors, or attendees - those sections don't appear in the navigation

SPONSORS
• If attached to an exhibitor, program checks if either sponsor or exhibitor profile has a picture

ADMIN
• Clients with a "Yearly Events License" can now add events on their own through the "My Shows" screen.
• When a client adds a new show the account rep is also notified.


Platform Updates (Monday - 5/11)

CHAT
• A new "Chats" panel has been designed and is available in a similar format as the Bookmarks Panel

GENERAL
• All content areas (schedule, marketplace, attendees, etc.) have a 100 pixel buffer at the bottom to make sure all content is visible above the Chats and Bookmarks panel.


Platform Updates (Monday, 5/18)

GENERAL
• Map D favicon in the browser tab
• If on mobile, redirects to mobile
• If not coming from the map-dynamics.com domain (whitelabel) the Map D badge and booths outline are removed

LOGIN / MY ACCOUNT
• Users can log in
• If a user has not created a front-end user account the system checks the following areas: Attendees, Speakers, Exhibitors, or Admin Users
• When a corresponding user exists in these areas:
- Admin Users, Speaker Logins, Exhibitor Logins: Creates an account using the existing password and logs them in.
- Personnel Users, Attendees: Creates an account, sends a password reset email to finish the process.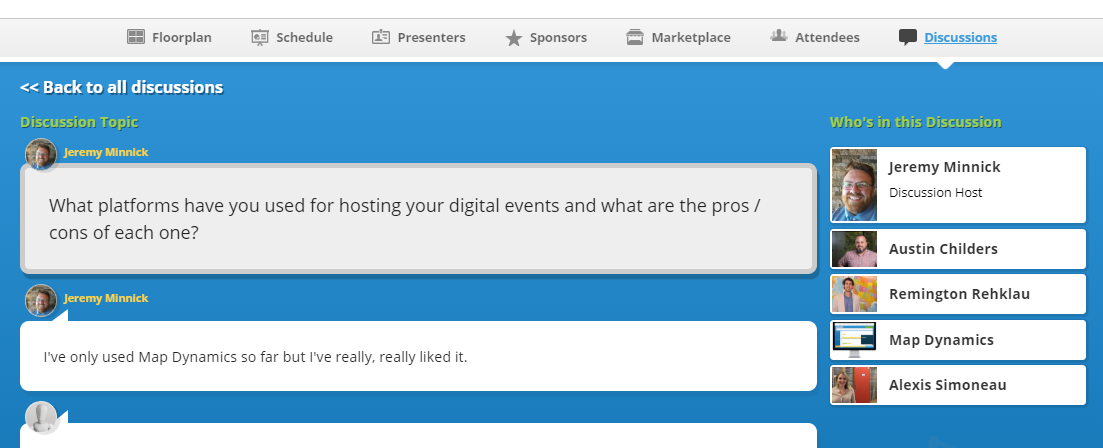 Discussions can be "open" to all attendees, "hosted" specific topics from event managers or sponsors, or "closed" to participation but open for viewing after a certain time.
Platform Updates (Wednesday, 5/20)

DISCUSSIONS
• Discussions can be posted along with responses
• If your attendee profile has been given access to "Start Discussions" then a green button with "Post New Topic" appears


Platform Updates (Thursday, 5/21)

DISCUSSION PROFILE
• Any attendee logged in can submit responses to posts
• Auto-refreshes every 5 seconds to bring any new posts into view
• Per-post there's an avatar of the attendee next to their name
• If the comments are from you it will say "Me" and the orientation switches to the right
• The list of "Who's participating" is a clickable list and you can see each user's attendee profile
• If you make multiple comments in a row the design groups them.


Platform Updates (Friday, 5/22)

SECURITY
• The "Event Password" functionality has been built into the Event Home Base
Platform Updates (Saturday, 5/23)

OPTIMIZATION
• Optimized parts of the code to load each page faster

SECURITY
• If the event has a password then all nav items open the "enter password" box when clicked and no content other than the Home is available to view

DASHBOARD
• An initial dashboard has been created with lead image, title, message, and sponsors

SCHEDULE
• Tracks now have a "Listed Order" field in the situations where there are ongoing events

DISCUSSIONS
• Attendees can have the option to start discussions based on config settings
• Even if you have an active User Account in the Map D system if you're not listed as an attendee on this event you can't contribute to the discussions

BOOKMARKS
• Bookmark titles and availability turn on or off based on navigation settings

PRESENTERS
• Sessions attached to presenters that have no date have been updated
Platform Updates (Tuesday, 5/26)
BOOKMARKS
• Bookmarks sync between devices if you are logged in as a user
EXHIBITOR PROFILE
• Contact form has been added
• "Title" and "Organization" have been added to the form
CHATS W/ VENDORS
• The chat program is in process and starting with just the vendors
Platform Update (Wednesday, 5/27)
TRACKING
• Visitor tracking has been added to the system on exhibitor, speaker, and session profiles as well as discussions and discussion profiles

ATTENDEE TO VENDOR CHAT
• Attendees can now start chat conversations with Vendors from the vendor profiles
• If a vendor meets the chat requirements a "Chat Available" tag shows up on the marketplace profile