10 Tech Gadgets And Tools That Get Me Through My Day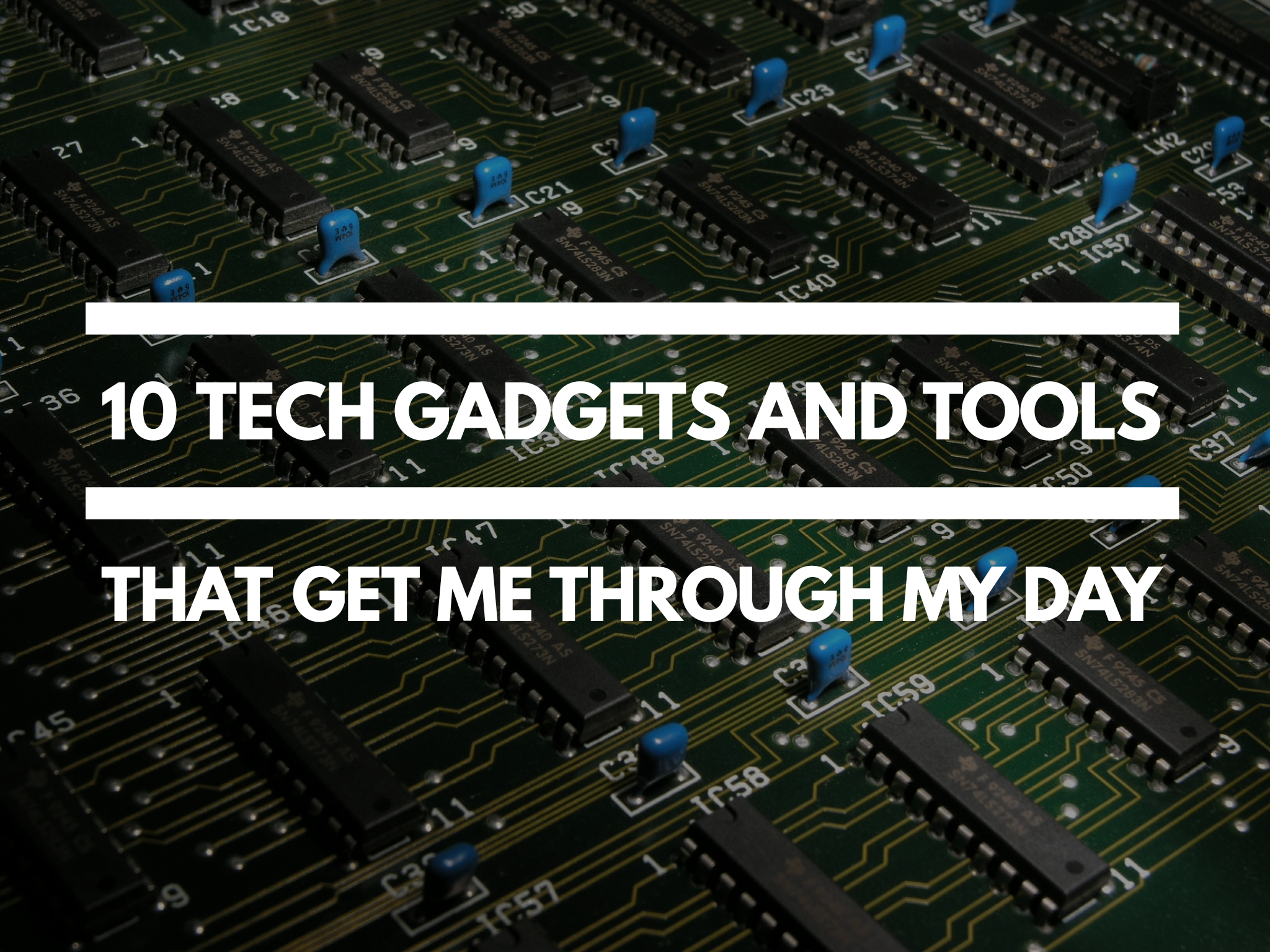 I come from a family of nerds, so I am constantly surrounded by conversations about new tech gadgets and the latest apps. A lot of it ends up sounding like noise after a while, but there are some bits I've implemented into my life that have made a huge difference in how I function on a daily basis. Here are my 10 favorite tech tools of the moment:
The Echo Dot is a fantastic way to get a taste of home automation without spending a lot of money. The full-sized Echo is around $100, while the Echo Dot is only around $50 and has all the same capabilities. It's smaller and the speaker quality isn't quite as good, but unless you're mostly using it for music it's perfect. I use it to set my morning alarm, since I frequently forget to do that until I'm already cozy in bed. With a simple, "Alexa, set an alarm for 7:30am" I am good to go for the morning. After Alexa has woken me up, I ask, "Alexa, what's the weather?" so I can dress appropriately for the day. If I'm afraid I'm running late, I can ask her for the time. And then later that evening, I can use the Echo Dot to set timers while I'm cooking dinner. These are some of the most basic features of the Echo Dot, but these alone make it worth it for me to have one.
2. Sonos One
Sonos makes a fantastic line of wireless speakers. They are not bluetooth speakers, so you're not playing the music from your phone (though you can control it through the Sonos app). The speaker connects to your wi-fi and plays the music directly. What's great about these speakers is how interconnected they are. Through the Sonos app, I can decide if I want the music playing on one speaker, or of I want to play the music on all the speakers in the house. I can also play one thing in one room and something else in another. If the music gets too loud for conversation, I can turn it down from the app without having to leave my seat. The speakers are small, stylish, and have fantastic sound quality. I love having them for parties because it makes controlling the music so easy. I have the older version, the Play:1, which I can connect to my Echo Dot and then ask Alexa to play music in a certain room. The newer version, the Sonos One, has Alexa voice control built-in, so it's a 2-in-1 device!
3. Beats Solo3 Wireless Headphones
Now these are a bit of a splurge, but I absolutely love these headphones. They sound great, have a high-quality built-in microphone, connect to my phone via Bluetooth, and have control buttons right on the headphones themselves. They also fold up and fit into a relatively small case for traveling. I received these as a gift (from one of those tech-savvy family members) and wondered when I was possibly going to have a use for headphones like these. The answer is: all the time. I love having them for phone calls so I can type or write notes about the conversation I'm having and hear the conversation well because I'm not distracted by outside noise. It also doesn't hurt that they are super comfortable and come in a variety of stylish colors (I have them in gold, if you were curious).
I know we all know about Google Calendar, but there are a lot of features that are easy to miss unless you really know your way around. One of my favorites is the ability to create multiple calendars without additional Google accounts. For example, all within my personal email address I have: my personal calendar, a calendar of all my daughter's activities, a family calendar for things that affect all of us, and a calendar for the AirBnb we host. I also have other calendars with other accounts like my work calendar. In addition to my own calendars, I have the calendars of my coworkers and my husband shared with me so I can see their availability as well. My husband has given me full access to edit his calendar as well, so if I need to add something to his calendar I can do so without him having to do anything. And of course I have reminders set up for important phone calls and appointments, and everything is color coded. I don't know how I would survive without my Google Calendar.
5. HelloSign
I hate printing out a form, filling it out, and either taking it to someone or scanning it in and emailing it. I refuse to do it. Fortunately, using HelloSign, I don't have to. I can upload a document, fill out the information, add a digital signature, and either send it to the person who needs it, or download it for me to use anywhere. I can also mark fields for others to fill out and sign and send it to them before sending it on to the final recipient. There are many services out there like this, but I really like HelloSign's interface. We recently went through a huge home renovation due to some water damage, so there was a ton of paperwork from contractors, insurance, and the mortgage company. My husband and I were able to get everything signed and sent off so quickly and easily using HelloSign. It made that nightmarish situation just a little bit easier, for which I am extremely grateful.
6. LastPass
When your spouse works in IT, internet security is something you get bugged about a lot. I used to drive him nuts with the passwords I used, and they weren't even all that bad! But since I didn't use a password management service, I did use only 3 different passwords for literally every account I had. Yikes. LastPass isn't a free service, but it's $24/year for individuals and $48/year for a family account (up to 6 users), and it's worth every single penny. I now have very secure passwords, and I don't have to remember or enter any of them. LastPass will generate them, store them, and enter them for me on a desktop and on my phone. A family can also have a folder of shared passwords that everyone can use for things like bank accounts and health insurance. I was stubborn about setting it up for years, and now that I finally have I wish I had done it a long time ago!
7. Dropbox and Google Photos
Trust me I put these together for a reason!

Again, I think we all know about Dropbox by now, but it's on my list for a very specific purpose: photos. Within the Dropbox app, you can turn on Camera Uploads. So whenever I take a photo on my phone, it automatically gets uploaded to the Camera Uploads folder in Dropbox. It's immediately backed up, so I never have to worry about losing my photos if something happens to my phone.
Similarly, with the Google Photos app, my photos get automatically uploaded to my Google Photos account so they're backed up in a second location! It's actually a step up from Dropbox because Google Photos has some really neat features as well. The Google Photos "Assistant" creates fun animations, stylized images, and videos from the content you've created. It also has creepily accurate facial recognition. With those two things combined, it has a unique power to pull at a parent's heartstrings. Occasionally it will create these "Through The Years" video compilations of photos/videos of my daughter set to sappy music and it gets me every single time. It also will find similar photos of the same person (again, usually my daughter) and do a side-by-side "Then and Now" photo. One time it even created a video about our cats! It's really neat!
I'm not quite sure how I accomplish this, but somehow I always seem to completely destroy the charging ports on my cell phones. I am so, so tired of having to position the cord just so in order for it to actually charge. Basically this meant that my phone was always almost out of battery. Then I realized my phone has wireless charging, so I decided to give it a try. I will never, ever go back. For about $20 I got a wireless charging stand for my phone. It does fast charging so my phone gets charged really quickly, and it props my phone up so I can always see the time and if I have any notifications. All I have to do is set it down on the stand for it to charge - no more plugging and unplugging charging cables. I know it sounds so simple but it has changed my life. I bought one for my night stand and one for my desk at work, and I may end up buying more so I can have one in every room of the house. It's that great. A bonus is that any guests we have visiting who have wireless charging can borrow my charger - no more trying to dig around for an iPhone charger in our all-Android household.
9. Google Maps Location Sharing
My family only has 1 car, so we're frequently picking each other up from work or other various locations. On a typical day, I pick up our daughter and then pick my husband up from work. Normally this would involve an exchange of text messages like this:
Me: Leaving work
Him: K
Me: Got Ella, heading your way
Him: K
Me: Almost there [this one is usually sent at a red light on the way, which is less than ideal]
Me: Here
But since we turned on location sharing, we don't have to do any of that. He can pull up Google maps, go to Location Sharing, and tap my picture to see where I am. This way, when he can tell I'm close, he can meet me outside to make picking him up super easy. It has become useful in so many situations. And you'd better believe we'll be using this when our kid is old enough to have a cell phone!
10. Waterproof Bluetooth Speaker
I love audio content. Podcasts, audiobooks, music, all of it. I am always looking for more times in my day I can squeeze in a podcast or a chapter of whatever book I'm currently listening to. A cheap (~$22) waterproof Bluetooth speaker with a suction cup has greatly improved my shower time. It's not the most fantastic sound quality, but it's cheap and I'm only using it for about 20 minutes maximum at a time, so I can deal with a slightly lower sound quality for that amount of time. It's another very simple device that I have enjoyed thoroughly.
These are just some of my favorite tech gadgets and tools that I use every day. In general, I don't think big life-altering changes are usually the ones we should try to be making. Small, incremental changes to our lives build over time and can make a huge impact. Using each one of these tools has made my life just a little bit easier and/or more enjoyable, which is enough of a change for me!