It's All About the Experience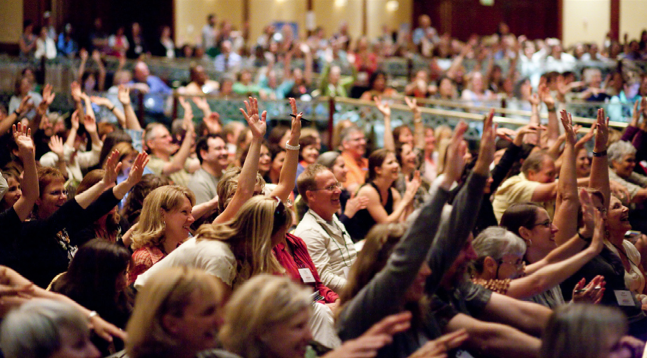 Conferences and workshops are typically packed full of content. But now that the internet is a universally available and accepted tool, most content information can be acquired in a few moments without leaving your desk. It's time for conferences to shift the focus from the content to the experience!
Lectures Are Out
It may be easy to fill the slate with topical lectures that only require a room full of chairs and a typical audio-visual setup. But is that the slightest bit memorable? Even if your attendees remember and use the information, will they remember where they learned it? We've all had the experience of attending a class or lecture after lunch and struggling to stay awake. Don't provide conditions ripe for your attendees to doze off!
Make it Interactive
Keep your attendees awake, engaged, and participating! Don't just communicate content, convey examples and experiences - both yours, and those of attendees. Ask them for their experiences and how they feel they can apply these topics to their organization's benefit. If there is a way to make the session hands on - tours, activities, competition - do it! If your topic is truly best suited to a traditional classroom format, add participation elements like polls to increase engagement and memorability.
Tap Technology
Can technology (outside our of standard AV) be incorporated into the session? Ask users to bring smartphones or tablets to participate. Adding polls and surveys allows participants to speak their mind and feel comfortable asking what they may consider to be embarrassing questions. Even a simple yes/no poll can allow the group to feel more connected when they can see they are not "the only one!"
Turn Attendees into Planners
Survey attendees at the end of your event and - here's the catch - actually use the responses you've gathered to guide decisions for your next occasion. When participants see that their opinions were listened to and considered for future scheduling, they are more likely to continue attending your events. If there is an overwhelming request for a particular topic, or a type of activity, honor that - even if you think it is overdone.
Engage via Social Media Before, During, and After
Asking questions, posting polls or votes, and advertising your sessions are all great things to do to get participants interested in your event. But you should also be pumping up your location and getting people excited about visiting somewhere new, or having the opportunity to see the area in a new way. Post interviews with recommendations from locals. Have a vote for a social opportunity - a ball game, a brewery tour, or a trail hike. Post-event, don't forget to share that survey link on social media, and share the results. As you're ramping up for your next event, let attendees know which recommendations are being incorporated!
If you want your events to stand out, make them memorable - make it an experience. Add exercises that give sessions personal value. Keep participants engaged by getting them moving, and incorporate technology.