Facebook: The Basics
September 07, 2010 | by Katie Anderson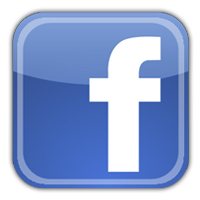 Facebook is the largest social networking site in the world, hitting the 500 million member mark this year and gaining 250,000 members by the day.
Facebook has a larger audience than all the residents of the US put together! Having doubled in size since 2009, Facebook now accounts for 58.6% of all visits to social networking sites in the United States. That's a potential 58.6% of attendees you are missing out on if you have not yet taken the plunge.
Having a presence in the Facebook community and utilizing it to promote your show can strengthen exhibitor-attendee relationships, enhance the quality and credibility of your brand, save time, and increase revenues. Are you sold yet?
In a nutshell, Facebook is an online social gathering where members with similar interests can connect, network, and share content. Users can create and customize their own profiles with personal information, multimedia, and an ever-increasing variety of custom applications. When searching for people, you can filter your search by location, workplace, or school, allowing you to better concentrate your promotional efforts. All you need to get started is a valid email address!
Facebook is constantly finding new ways to intertwine the professional and the personal realms by creating a wide range of features and applications that allow business owners to enlarge your company's influence and propel marketing efforts. The most effective way use the power of Facebook to reach professional goals is by creating a "Page." As a rule a thumb, Profiles are for personal use and Pages are for professional use. However, to create a Page, you must first have a Profile.
Creating a page:
Here is a step-by-step guide to creating a Page for your trade show. Remember, you have to have a profile before you can do this. To get going with your new Facebook profile, just go to the Facebook home page and fill out the signup form.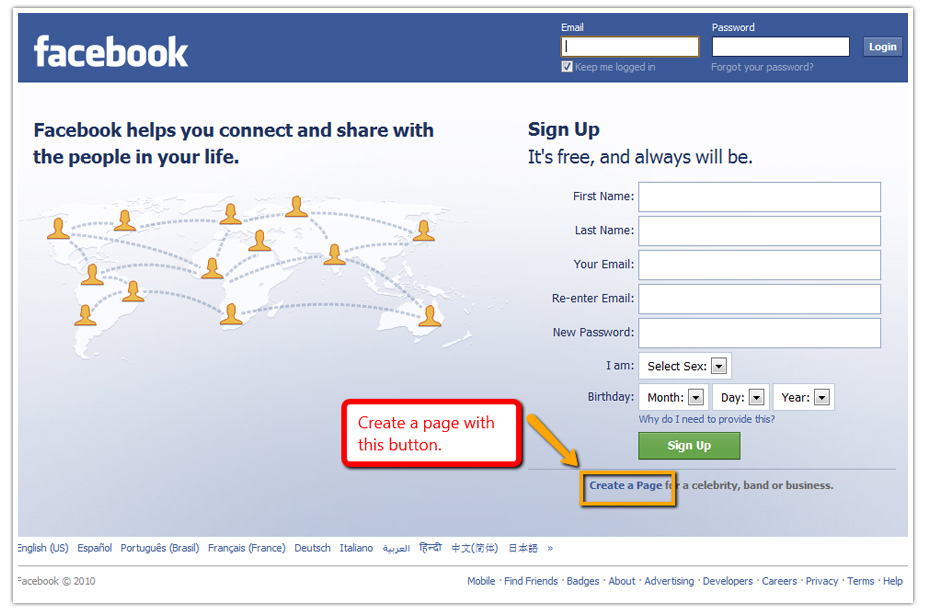 Sign-up
On the bottom right hand side of Facebook sign-in screen, there is a button that says "create a page." Click it. It will then give you options of who exactly you are creating this page for. For our purposes, you will either want to choose "local business" or "brand, product, or organization" (the only difference being the page layout). The "page name" should be the name of your company. The category and name of your page CANNOT BE CHANGED once the page is created, so be sure to nail it the first time. You may also want to consider adding some keywords that people might search for you by in your title. For example, Map Dynamics: Interactive Floorplans, Tradeshow Floorplans, and Mapping Systems.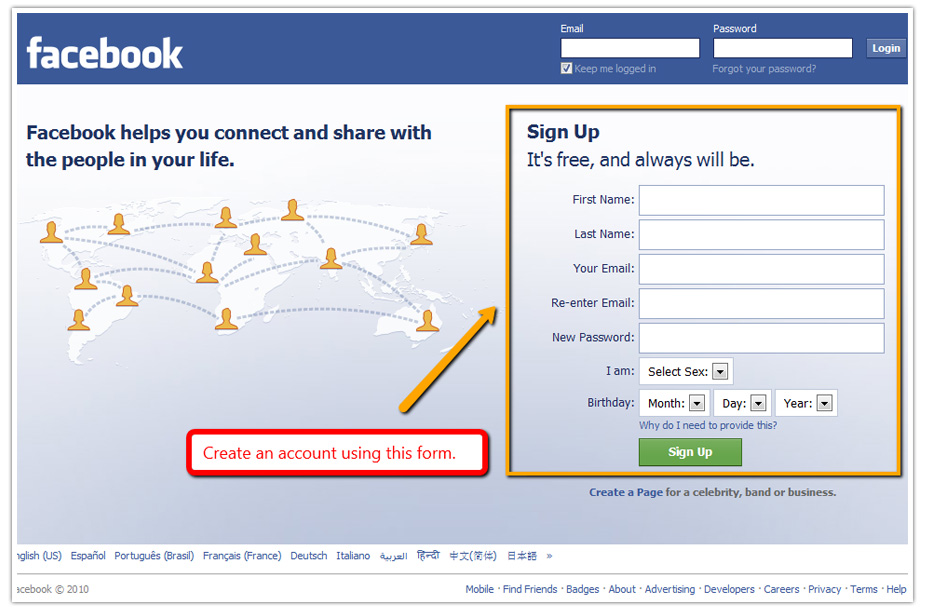 How do I look?
Upload the picture that you want people to see when they visit your page. This is your company's face, so it should be your company logo or a unique image that characterizes your company. The average Facebook user is connected to 80 community pages or groups. You must stand out.
Introduce yourself
Here is the time to let readers know who you are and what you're about. Click on the "Info" tab at the top of your page. Here you can fill in select information about your company, including a company overview, your mission, hours of operation, and a link to your company's website. This should be detailed, yet concise and needs to let people know what is different and distinguishable about your company. Another place to write a little something about yourself is in the description box on the right hand side of the page, underneath your picture.
Get personal
There are several ways to do this. At the top of your page, you will see 4 or 5 different "tabs", respectively labeled: Wall, Info, Photos, Discussions, and Reviews (depending on the type of Page you are creating). These are all ways to promote your business on a variety of different levels as well as to give your page functionality and flare.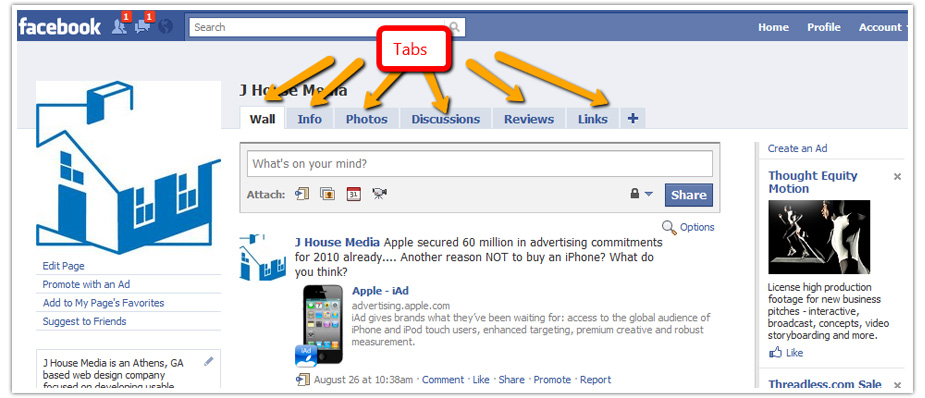 Uploading photos and videos to your company page will add visual support and appeal to your content. Choose photos that correspond with with your company model and marketing strategy. For example, a big corporation might want to post fun photos or lighthearted videos to give off a more personal image, while smaller businesses may try posting more instructional material in order to help your viewers see you as credible and professional. You can edit your page by clicking on the Edit Page link on your page shown below.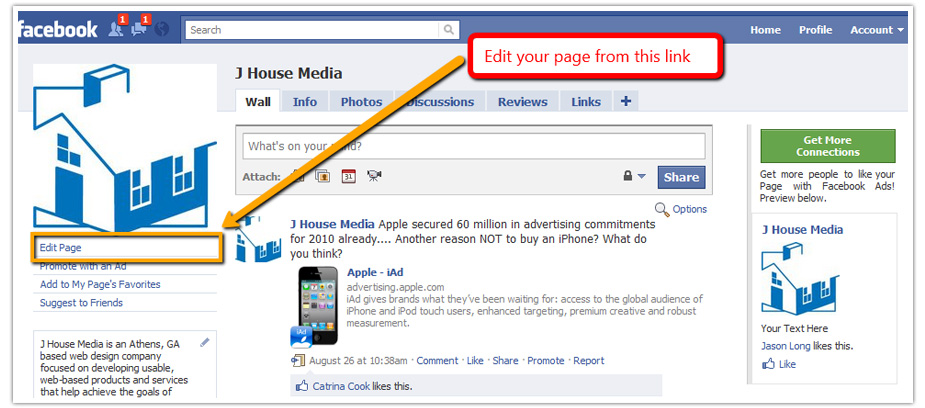 Your Wall is the common space on which you and your followers can share comments and content. Here you can respond to any feedback or questions your fans might have. You can also share breaking industry news, upcoming events, or other helpful tips by posting your status. These should be frequently updated to keep fans in-the-know and your company appearing active and engaged.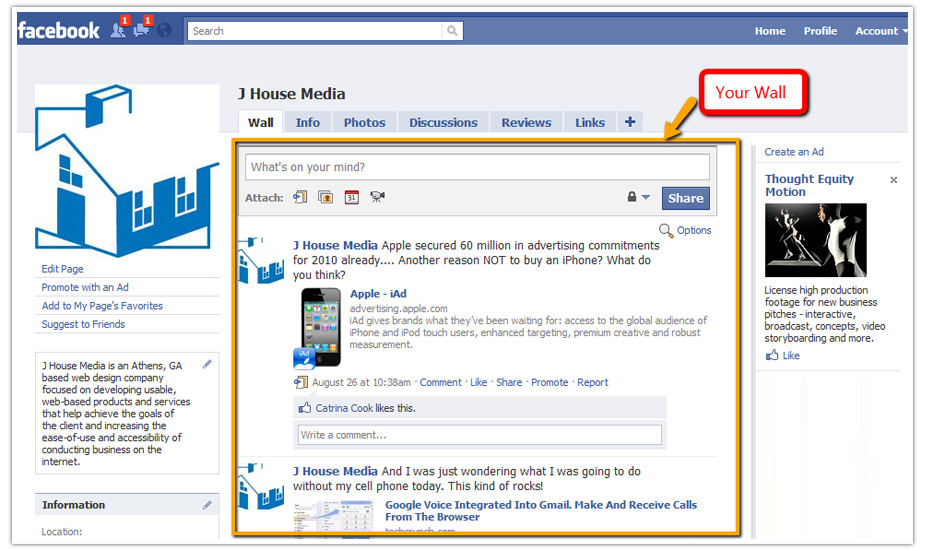 If you have more extensive content, such as articles or in-depth details about an event, you can include this as a "Note." Notes are found by clicking the (+) sign on the tab bar.
For more on setting up a Page and learning your way around Facebook visit this link.

Or go to the Facebook help page.
Remember, these are just the basics. Over the next few weeks, we will be discussing additional ways you can use your Facebook Page to build relationships with new clients, strengthen those with already loyal followers, and make your show a great success.